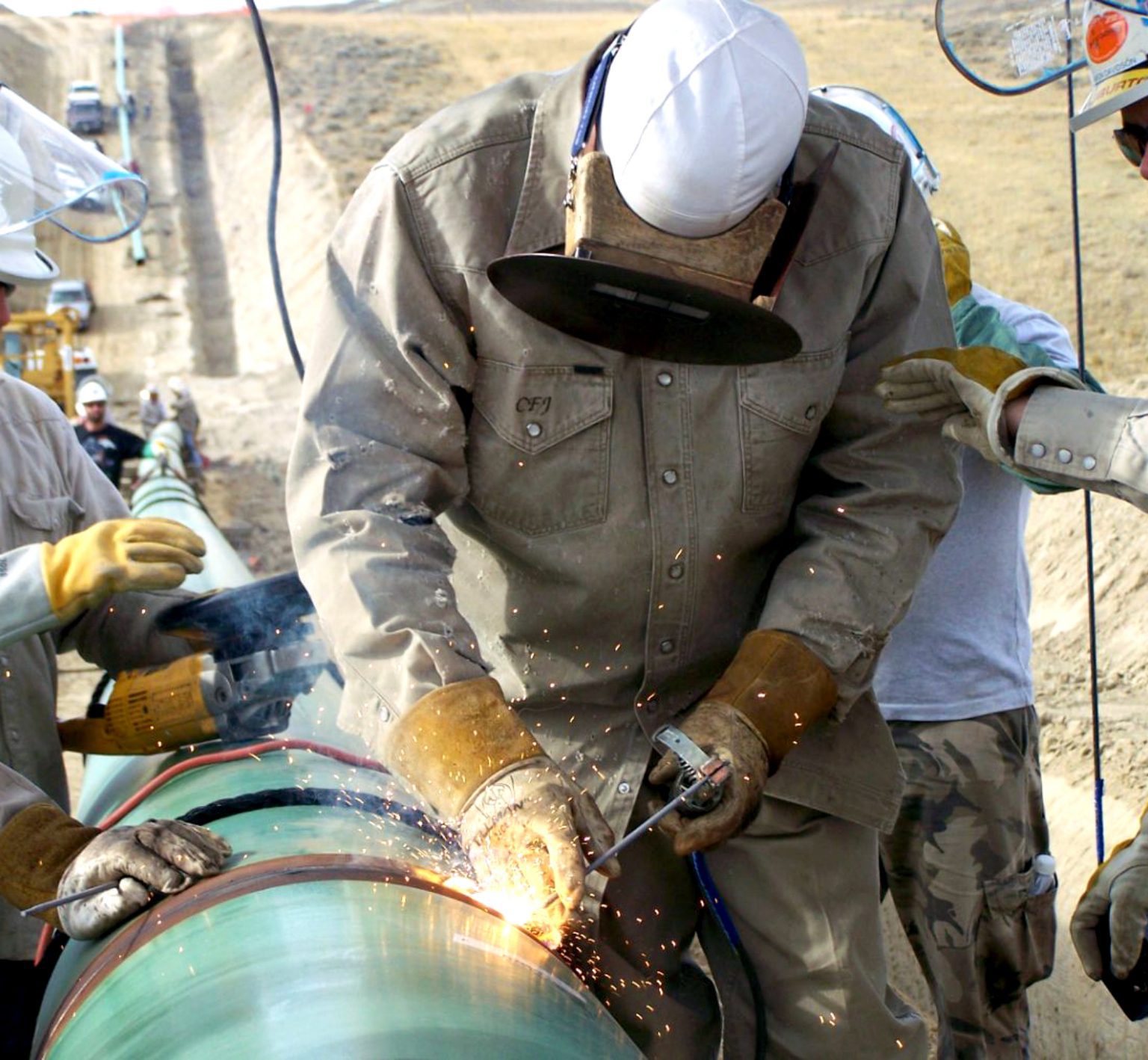 Employee & Contractor Safety
Denbury has a long-standing commitment to the highest standards for the health and safety of our employees, contractors and local communities. We recognize that providing and integrating a sound health and safety program into our business is key to our success. As we continue the evolution of our safety culture, we stress the importance of individual choices and the impact they have on our lives, both at work and at home. Our logo and theme, "Zero by Choice," is a reminder that each employee or contractor can achieve a zero-incident workplace by making the right choices in everything we do.
Denbury continuously monitors the safety performance of our employees and contractors. Two performance indicators that Denbury closely monitors are Total Recordable Incident Rate ("TRIR") and Days Away/Restricted or Transfer Rate ("DART"). In 2021, Denbury achieved our fifth consecutive annual safety improvement with a TRIR of 0.40, employees and contractors combined. Our employees and contractors' combined DART in 2021 was 0.35.
Denbury's dedication to safety is built into our management structure, starting at the highest levels and extending to our field offices. Four members of Denbury's Board of Directors ("Board") are representatives on the Board's Sustainability and Governance Committee. One of the Committee's primary oversight responsibilities is to review with senior management and provide advice and oversight with respect to Denbury's performance of health, safety, protection of the environment, climate change and sustainability targets, as well as compliance with applicable health, safety and environmental ("HSE") laws, rules and regulations.
Denbury has a well-established HSE Department that provides corporate guidance and standardization across the organization on HSE matters and is tasked with ensuring that Denbury meets or exceeds safety and environmental regulations. Our Vice President of HSE works closely with a dedicated team consisting of fourteen corporate and eight field HSE employees integrated into both our corporate and field operations.
Denbury's HSE Committee is comprised of senior managers from each operations department. This team meets on a regular basis to review, discuss and address safety and compliance performance. The HSE Committee identifies those areas that need improvement and then develops, launches and champions new safety programs and initiatives.
It is Denbury's policy to conduct business in a manner that respects the environment, as well as the health, safety and security of its stakeholders. In 2022, Denbury revised our HSE Policy to update our guiding principles and better reflect our companywide approach to health, safety and the environment. Compliance with our HSE Policy and working safely are conditions of employment for all employees of the Company, as well as for contractors to work with the Company. Every Denbury employee is expected to take personal responsibility to understand and comply with our HSE Policy. For details about Denbury's HSE guide principles, refer to the 2022 Corporate Responsibility Report.
Our HSE program's success is dependent on the integration of several system processes. Denbury has implemented many of the core elements of both Occupational Health and Safety Management Systems ("OHSMS") and Environmental Management Systems ("EMS") to conform to national and international standards.
ANZI Z10/ISO 45001 are the national and international standards respectively for OHSMS, and ISO 14001 is the international standard for EMS. We are working towards the formal adoption and/or certification of these standards. Denbury has a goal of initiating certifications for both standards in the second half of 2022 with receipt of final certifications for both ISO 14001 and ANZI Z10/ISO 45001 in 2023.
Our HSE program elements include:
Employee Participation/Management Commitment

Performance Goals

Employee Training Program

Contractor Management Program

Program Audits

Mechanical Integrity

Emergency Response Plan

Post-Incident Investigation

Plan-Do-Check-Act Cycle
For more information on our HSE management systems and HSE program elements, see our 2022 Corporate Responsibility Report.
Denbury's Supply Chain Management process, which is part of our EMS, is designed to minimize financial and other risks to the company and define uniform and consistent procurement practices in alignment with our environmental, social and governance ("ESG") strategy. We are committed to continuing to align our supply chain policies and procurement process with human rights and sustainable practices. Additional information on our Human Rights Policy is provided on the Human Rights page.
Each year, Denbury establishes corporate goals specifically related to employee and contractor safety performance and monitors them throughout the year. The performance statistics are continually reported to the Board, senior management and all employees to reinforce their importance. The compensation of every Denbury employee is tied to achievement of these goals, which further reinforces that safety is integral to everything we do.
Two performance indicators that Denbury closely monitors are TRIR and DART. TRIR is a rate that represents the number of Occupational Safety and Health Administration ("OSHA") recordable incidents for every 200,000 hours worked. DART is a rate that represents the number of days away from work, work restriction or job transfer resulting from OSHA recordable incidents and illnesses for every 200,000 hours worked.
For more information on our safety performance, see the graphs below and our 2022 Corporate Responsibility Report.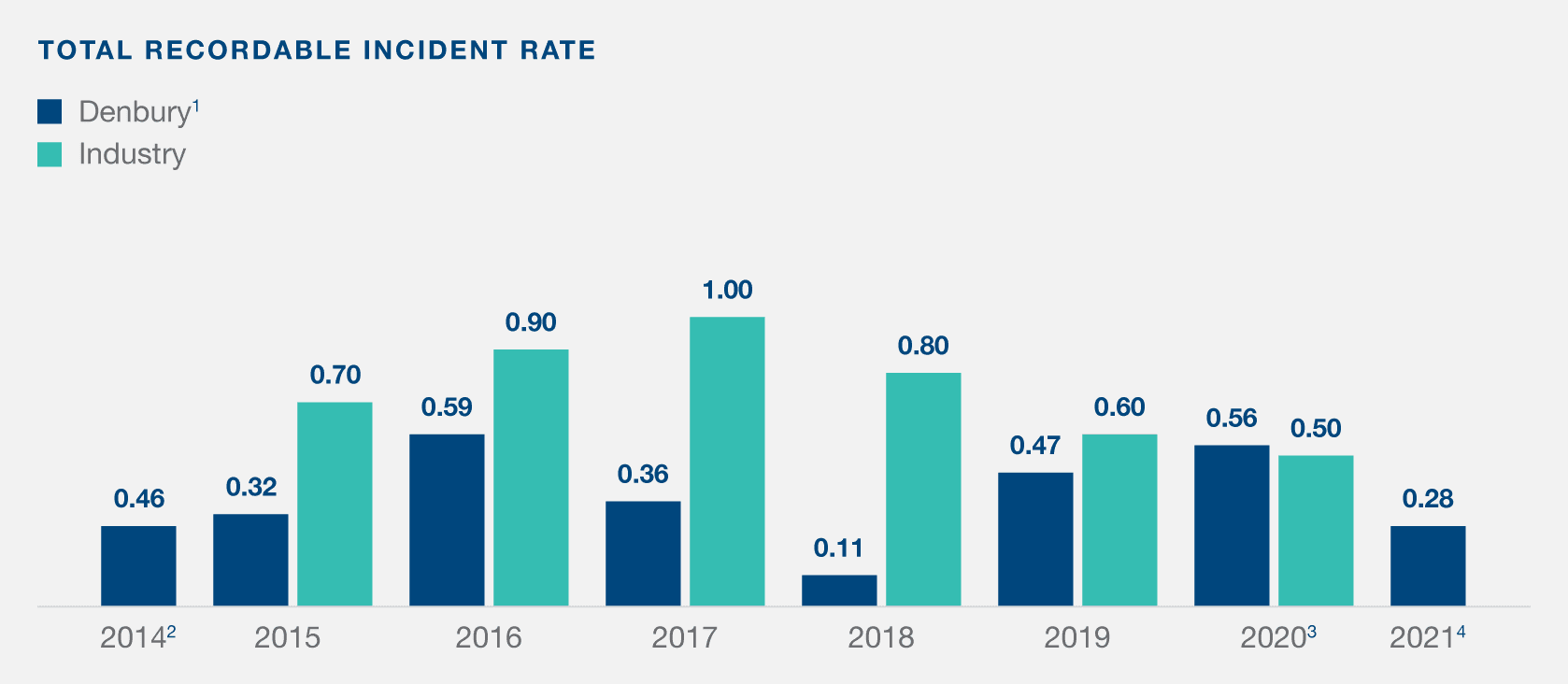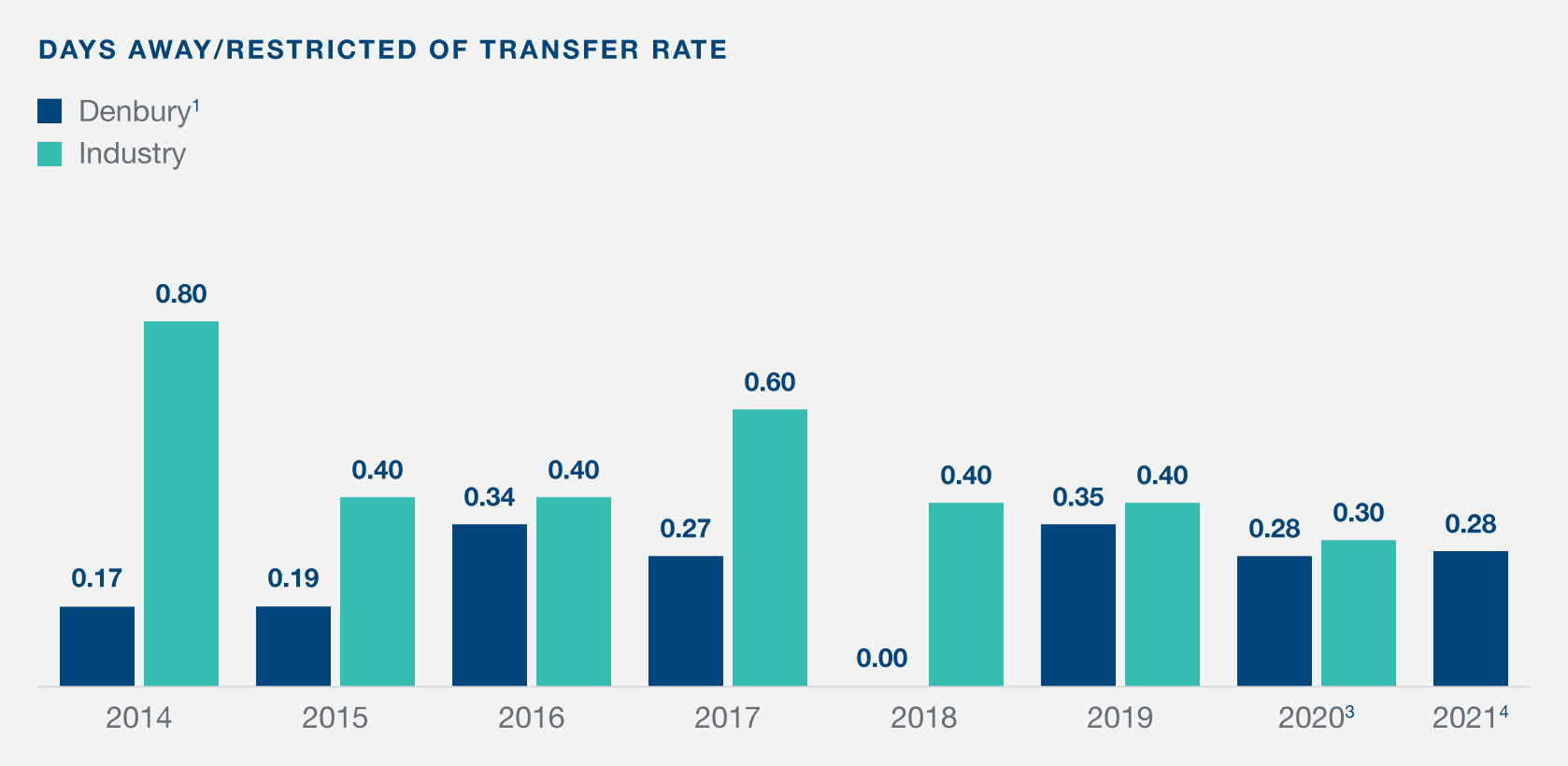 ¹
The information above relates to Denbury's employees only. It does not include data for contractors working for Denbury.
²
The Bureau of Labor Statistics has not published an industry average TRIR for the year 2014.
³
2020 data reported may differ slightly from prior year's reporting due to internal auditing.
⁴
The Bureau of Labor Statistics has not yet published an industry average for the year 2021.
Denbury's focus on safety is highlighted by our annual HSE Road Show. Company leaders, including our senior operations executives, toured every significant operating location to meet with all field employees to discuss our commitment to safety and compliance in Q1 2020 and early Q2 2021. Our "Zero by Choice" motto was reinforced, past performance was celebrated and our ESG focus was discussed. We plan to continue the annual HSE Road show each year going forward.
Contractors are an integral part of Denbury's business, and the well-being and safety of our contractor partners is equally as important as the safety of Denbury's employees. Our employees' engagement with contractors about safety is a standard practice. Contractor orientations and pre-job safety reviews promote both a safe work environment and clear communications.
Denbury HSE personnel conduct annual and post-incident audits of our contractors. Denbury also partners with ISN, a global leader in supplier and contractor management, to conduct HSE program audits of select contractors connected to Denbury in ISN.
In 2021, Denbury implemented ISN's Training Qualification and Badge Scanning Tool to ensure that contract workers working on Denbury sites have the proper HSE training for the tasks about to be conducted. This initiative resulted in a significant reduction of incidents and was a key factor in achieving the best contractor safety performance in the history of the Company.
Denbury has developed and implemented a Zero by Choice ("ZBC") Program ("Program") and developed the ZBC Reporting Tool application ("ZBC Reporting Tool"). One of the cornerstones of our Program is identifying, mitigating, and communicating hazards. We encourage our employees and contractors to share their hazard observations as well as positive behaviors such as "Safety Conversations", "Stop the Job" examples and "Safe Acts." Leading indicators, such as hazard observations of behavioral or operational conditions, provide key information regarding our culture and maintenance philosophies, which allow us to act before an incident occurs. This focus on leading indicators impacts the performance of our employees and contractors and influences the daily business objectives.
Leading indicators of behavioral and operational conditions are vital to business performance and integral to enhancing our focus on creating favorable outcomes. These indicators include substantial amounts of business-related activities such as:
Asset Integrity—Maintenance work orders (Preventative & Corrective)

Hazard Observations (Stop Work Authority, Unsafe Conditions, & Unsafe Behaviors)

Safety Conversations (Tool utilized to track field engagements)

Safe Acts (Tool utilized to recognize safe behaviors of teams)
The ZBC Reporting Tool captures all leading indicators (Hazard Observations, Safety Conversations, and Safe Acts) in one place, and allows front-line workers to send in leading indicators in real time from their mobile devices, instead of relying on the historic method of using either paper forms and/or emails. For more information about our ZBC Reporting Tool, see our 2022 Corporate Responsibility Report.
There are times when our workers are required to work and/or travel alone in the normal course of business. In these situations, we believe it is important to have a means for our employees to seek help when needed. Denbury initiated a Lone Worker Safety program using satellite and cellular based devices capable of issuing an alert if our employee falls or triggers a SOS. In either of these situations, the alerts trigger a communication to our Control Center located at our corporate office that is monitored 24 hours a day, 7 days a week. The GPS capability of the devices also provides our employee's exact location, so help can be directed as quickly as possible.
In response to the COVID-19 pandemic, Denbury established and maintains a corporate task force to manage the company's protocols to protect the health and safety of its employees and mitigate the impacts of COVID-19, while minimizing business interruptions. Denbury's COVID-19 Response Plan is reviewed periodically to align with the latest information and guidance provided by the Centers for Disease Control and Prevention. Throughout the pandemic, Denbury partnered with Axiom Medical for third-party medical evaluations of potential and active COVID-19 cases. This partnership provided an independent and confidential medical evaluation process for employees for effective case management. To encourage employees to become vaccinated for COVID-19, Denbury established a voluntary vaccine incentive program in 2021.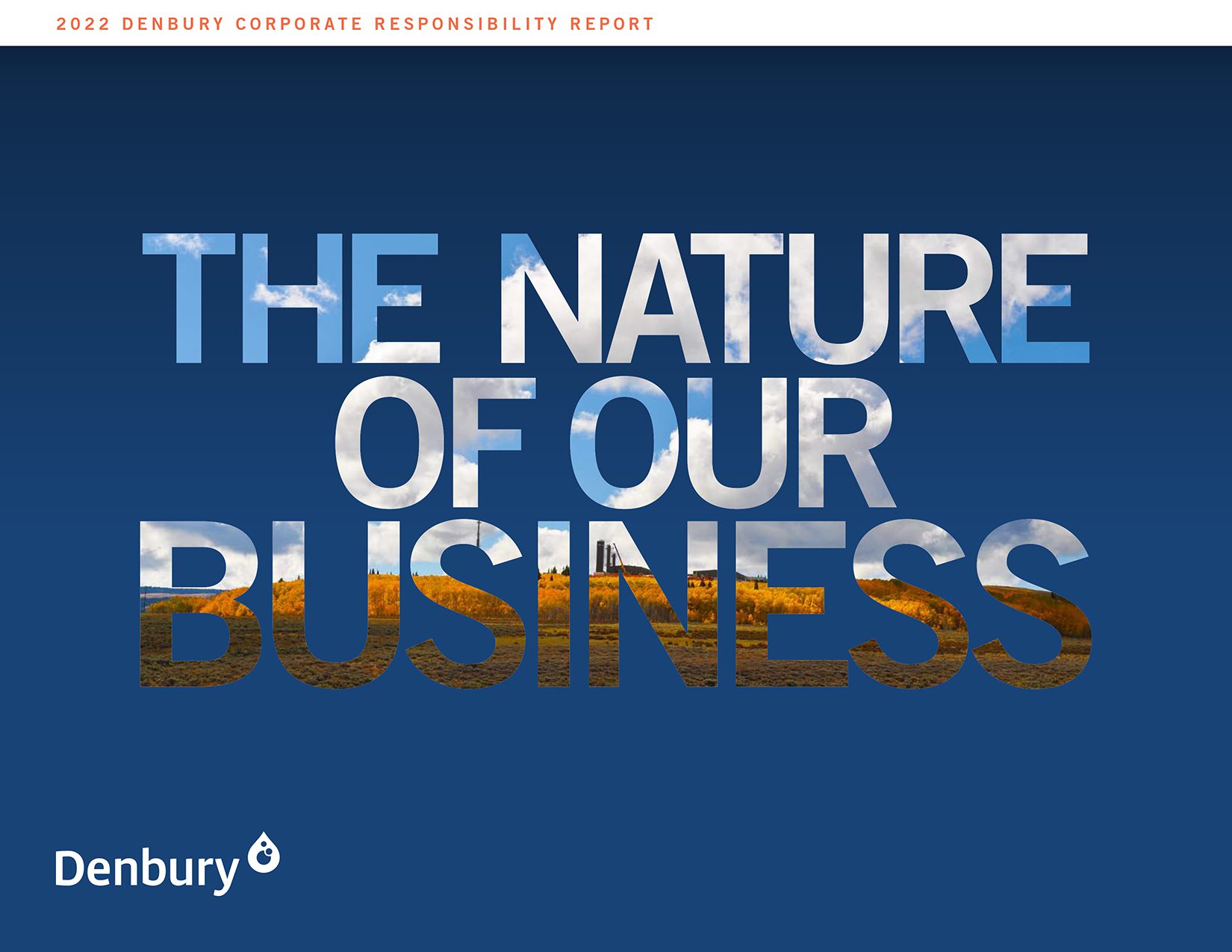 For more information on Denbury's employee & contractor safety measures, see our 2022 Corporate Responsibility Report.