Risk Management
Denbury's Board is responsible for oversight of our risk assessment and risk management. The Board strives to effectively oversee our enterprise-wide risk management while maximizing the long-term value for our investors, with due regard for our employees and other stakeholders. The Board receives regular updates from, and maintains an active dialogue with, members of our management team and Internal Audit Department about existing risk management processes and how management identifies, assesses and responds to our most significant risk exposures. These interactions enable the Board to evaluate whether management is appropriately managing our most significant risks. Regarding climate change-related risks, Denbury has implemented a defined set of greenhouse gas ("GHG") emissions reduction goals and aligned incentive compensation metrics to reflect those goals, which include both annual reduction goals for Scope 1 and Scope 2 and a goal to reach Net Zero for Scopes 1, Scope 2 and Scope 3 (Category 11: Use of Sold Products) ("Scope 3") by 2030.
The Board also relies on, and has delegated certain aspects of its oversight responsibility to, its committees to assist the Board with its overall risk assessment and risk management responsibilities. With senior management, each committee reviews and assesses risk-related matters within the scope of its responsibilities and reports regularly to the Board on those risk-related matters.
Our Board, Sustainability and Governance Committee and management team regularly consider climate change-related risks as a part of our ongoing risk assessment and risk management processes. These considerations consider both effects to our business and of our business.
For example, climate-related risks to our business are incorporated into our enterprise risk assessment and include climate related impacts such as increased hurricane frequency and severity, severe drought, floods, winter storms and other weather-related. Climate-related risks of our business include hydrocarbon market fluctuations as various regulatory and social inputs influence supply and demand.
Denbury has set a goal of reaching Net Zero for Scopes 1, Scope 2 and Scope 3 by 2030 by leveraging our existing and expanding infrastructure of Carbon Capture, Use and Storage ("CCUS") projects. Our management team evaluated our GHG emissions and, with input from the Board and Sustainability and Governance Committee, established a GHG emissions reduction target to mitigate climate change-related risks.
When forming our long-term investment and development plans, our Board and management team considers a range of scenarios, which can include how such scenarios impact all facets of business opportunities. These assessments are integrated into our overall risk management processes, which help to mitigate, control and manage those risks.
The annual incentive bonus of every Denbury employee, including our executive officers, is tied, in part, to Denbury's environmental, social and governance ("ESG") Performance.
In 2021, 15% of the annual incentive bonus was tied to health, safety and environmental ("HSE") goals.

In 2022, 40% of the annual incentive bonus will be tied to our CCUS business strategy and ESG performance (20% tied to performance measures related to our CCUS business strategy, 5% tied to an annual emissions reduction target and 15% tied to health and safety goals)
The Audit Committee of the Board has direct oversight of Denbury's guidelines and policies with respect to risk assessment and risk management, including cybersecurity risk exposures, the steps senior management has taken to monitor and control such exposures and disaster recovery and business continuity plans to mitigate risks related to any breach of cybersecurity. The Audit Committee receives briefings on cybersecurity matters from our senior management on a biannual basis and as needed.
Denbury regularly uses third-party resources to audit and test our information technology ("IT") security, and requires all employees and contractors with access to our systems to undergo annual internal IT security training and testing. We also carry commercially reasonable cybersecurity insurance coverage.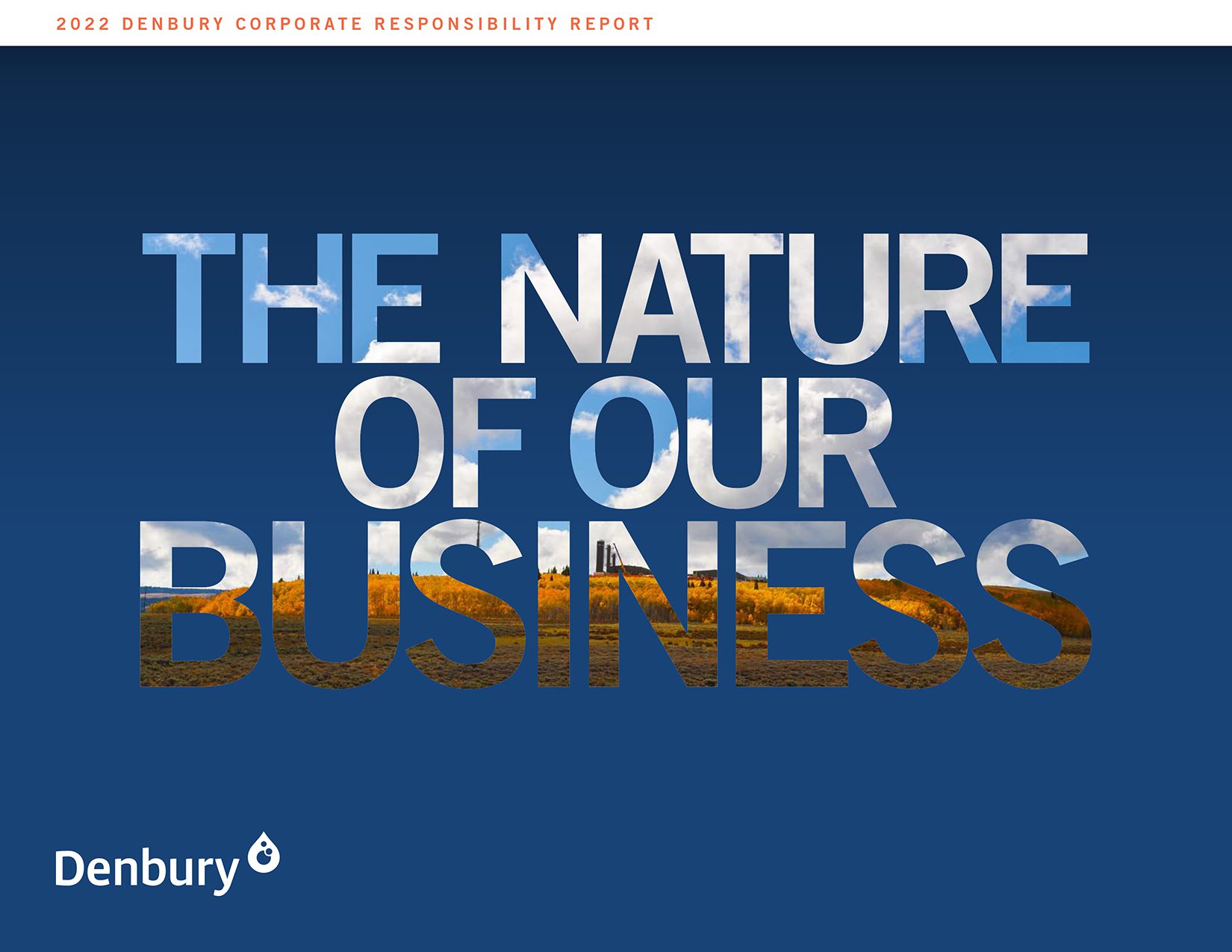 For more information on our risk management, see our 2022 Corporate Responsibility Report.